The first major task to undertake will be digging the foundations for the extension. You will need to talk with your local planning control department to determine what the size and depth of the strip footing needs to be for your local soil conditions.
In my area, my subsoil is solid sand that will need to be shifted with a pickaxe - I know because I've done this before! The planning officer said that they needed to be 600mm wide and the bottom of the slab 450mm deep.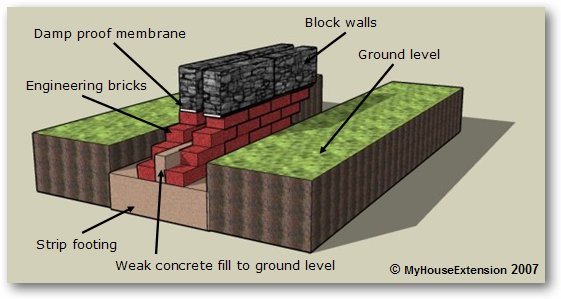 The basic construction of the extension foundations
In my case, the strip footing will be 600mm (24") wide and 200mm thick. The below ground part of the wall and up to the DPC will be built using standard engineering bricks on the inside and outside facing bricks reclaimed from the knocked-down external toilet wall.
The cavity will be in-filled to the ground level with a weak concrete mix. Above the DPC I will use heavy blocks as the outside face of the extension will be rendered to match the rest of the house.
The DPC on the inside wall should overlap the damp proof membrane placed underneath the floor slab as shown here. Once the DPC is in place, then an inspection is required by the planning control department.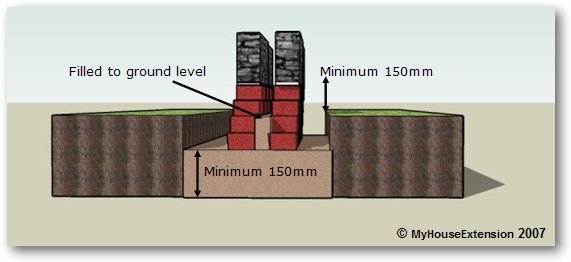 Some minimum spacings as specified in building regulations
The main point to remember is that the level of the DPC - damp proof course - needs to be a minimum of 150mm above outside ground level to meet UK planning regulations. Ideally, it should be at the same level as the existing building, but this could prove to be a problem me. In my case the land is 25cms (10") higher at one end of the extension than the other, so the DPC will be 150mm at one end and would be around 40mm at the other. This will create a problem as the bottom of the door will be too high so it looks like I might have to take the DPC down by a brick level or two at the low end of the extension.
It may be simpler to just level the ground outside of the extension.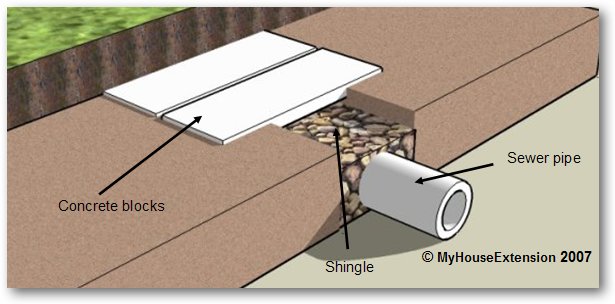 How the sewer passes through the foundations
The above drawing show how the main drainage pipe will pass through the strip foundations. The pipe will be covered by shingle then by several small slabs to take the weight of the wall.