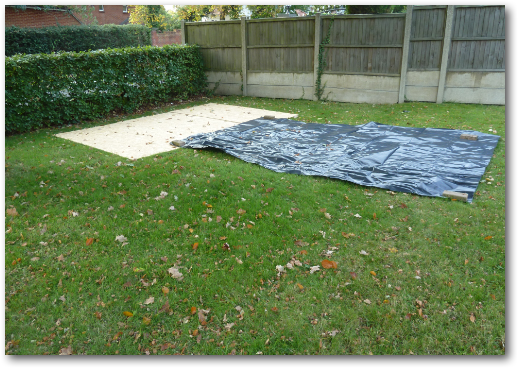 This is where I planned to place the spoil that was removed from the patio though I sadly underestimated the amount of soil we would be excavating at that time!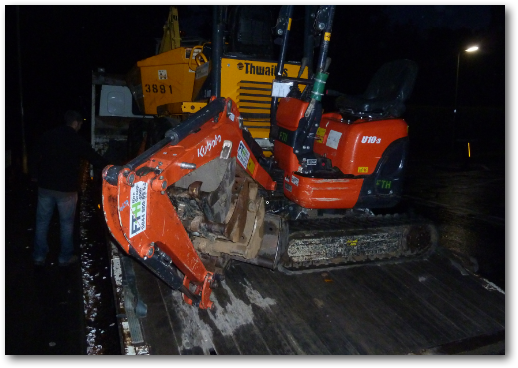 The mini-digger was delivered to allow us to start the patio demolition first thing the next morning.
The width of the digger was a critical issue as we only had a gap of 750cm to take the digger through - finger crossed!
It only just fitted in the end and that saved us the trouble of hand-digging the foundations.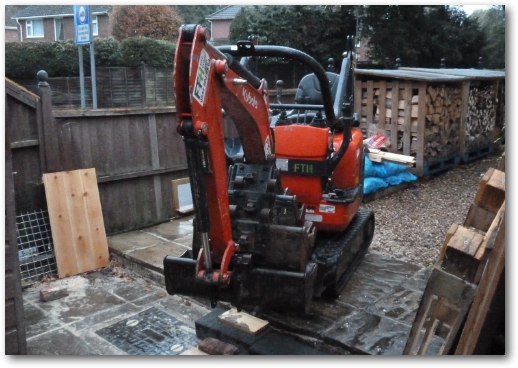 The digger all ready and waiting to get started!
I only had it for two days of rental so there was no time to waste.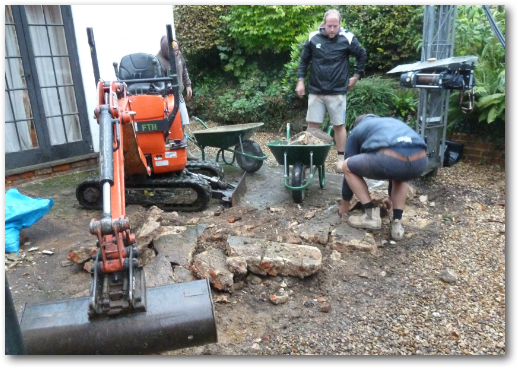 I hired Michael and Jason from
JM Brickwork
to do the foundations and build the walls. They came highly recommended.
The first task was break up the old patio using the mini digger.
Michael is standing in the picture.
The breaking up of the patio is now nearly complete - it didn't take any time at all!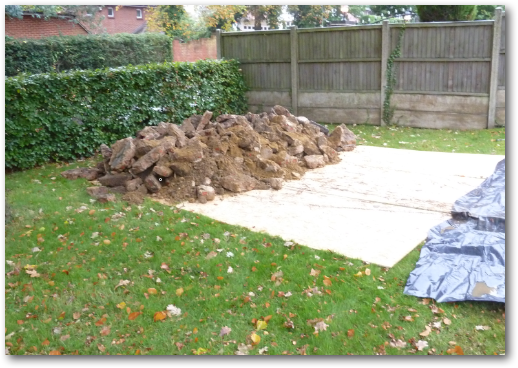 The 'muck' starts to pile up after wheelbarrowing around the side of the house!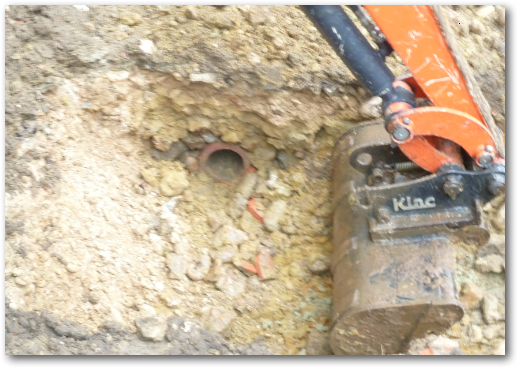 Whoops all stop!
We came across an old clay pipe, but fortunately it was very old and not in use we found.
So up it came!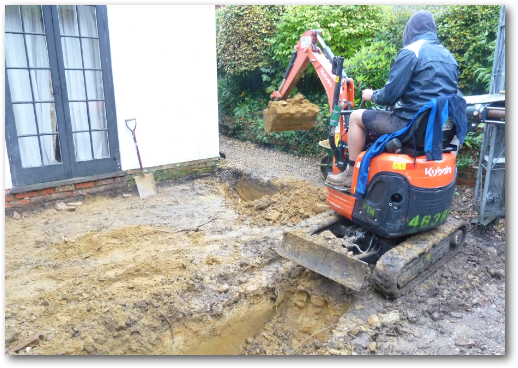 The serious digging starts before lunch on the first day.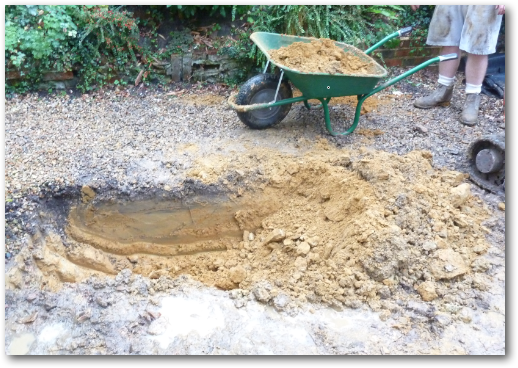 Our house is cut into the side of a hill so top soil is very shallow.
Solid sand sub-soil is only a few inches down so very deep foundations are not required.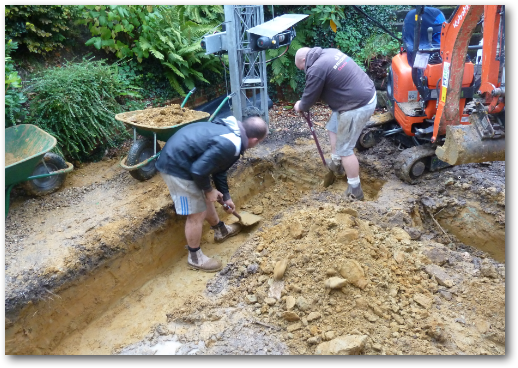 The back corner of the extension was determined by the location of my amateur radio tower.
I obtained planning permission for the tower thirty years ago and the thought of reapplying for it if I moved the tower was too onerous to consider!
This did mean that the extension was 300mm narrower than the main house but this would add some charater I thought!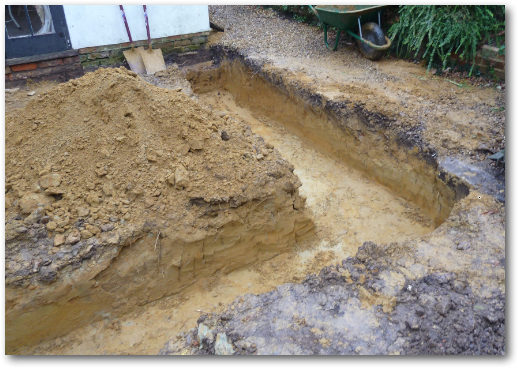 As we wanted to complete all the groundwork up to pouring the slab in three days, my management 'role' was to get building control in at an exact hour each time for all their groundwork visits.
The foundations are fully dug and it was time to call in building control to inspect.
All OK!
I'm pleased to say so no time was lost at all.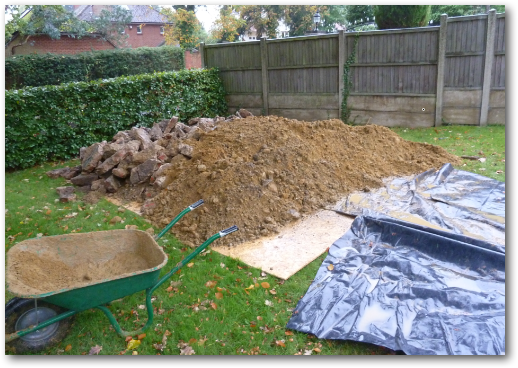 And the pile gets bigger...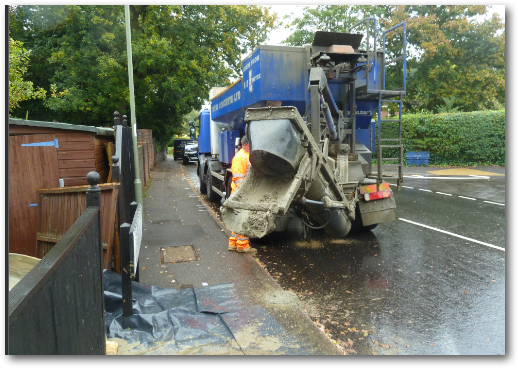 The cement lorry arrives just after the building control inspector left - perfect timing!
Unfortunately, it was a wheebarrow job transporting the concrete mix to the extention location.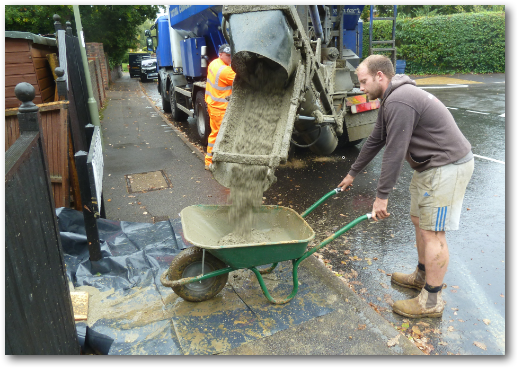 Michael doing the hard work.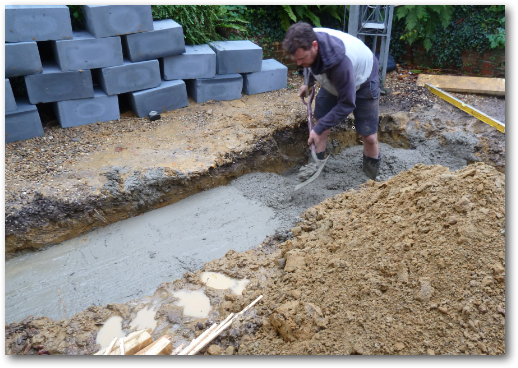 Jason massaging the wet concrete to get the required level.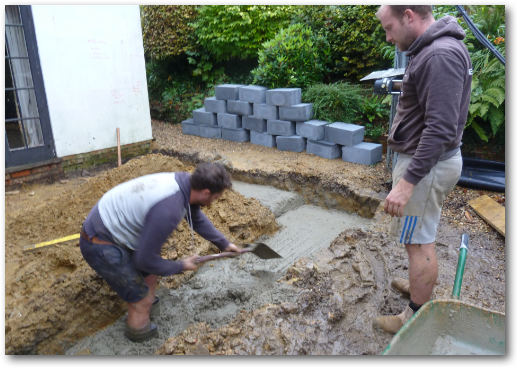 Jason nearly losing his wellies!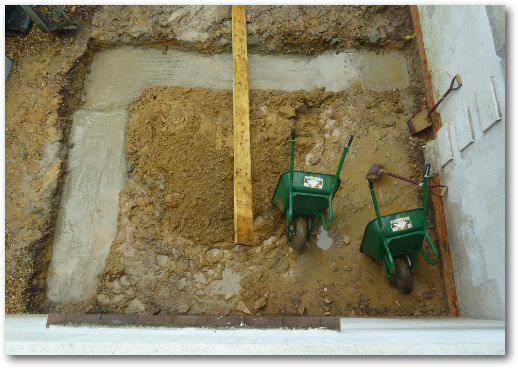 The foundations are now complete and will be allowed to set over night ready for the next stage tomorrow.